Flavors…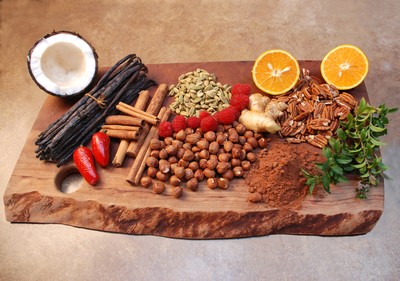 Have you ever wondered what your personal taste profile might be if you were raised in a different culture? I know my palate has been shaped by a lifetime of Northern California food choices. We have it all, in the Bay Area. But I also know that my palate was formed by simple ingredients. My family kept to the basics with plenty of fresh picked produce, fresh baked bread (yes, my mom fully embraced the country lifestyle), locally raised meat (Sonoma thrives with options), dairy and the American pantry staple: Lawry's Seasoned Salt. My palate still cannot embrace hot, spicy peppers despite years of exposure while really pungent cheese is a struggle and odd animal parts don't beckon!
| | |
| --- | --- |
| | |
I didn't really think about how my upbringing and exposure to my personal ingredient list influenced my wine vocabulary, until I went to China. My primary task was hosting guests in our Shanghai Tasting Room or students at one of the local universities for wine education. I set up the tastings as one might expect: three wines, white, medium body red, heavy red. I had my back pocket list of adjectives, the ones that come naturally to me from time spent in vegetable gardens, farmers' markets and years of outdoor adventure. So, to my surprise, when I encouraged the guests to find the aroma of grapefruit pith or the flavor of blackberries, I was met with some blank stares.
Jeannie Cho Lee is a Master of Wine, and she put together a great reference table. This quickly helped me better understand the natural starting point, for my guests. When I would think strawberries, I would say dried wolfberries. The barriers came down, quickly!
Jeannie Cho Lee's Language of Taste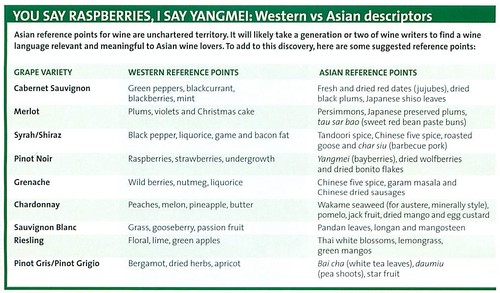 Wine vocabulary is food vocabulary. If you are well traveled, and have eaten around the globe, you will have a much better chance of pinpointing that exact aroma or flavor. Maybe it was some exotic spice eaten on the streets of Bombay or a fragrant soufflé from a back alley in Paris. Or, maybe it is your grandfather's smoky thick bbq sauce or mom's summer apple pie. Whatever your food heritage, I guarantee it's your wine vocabulary, too!