There is nothing better than a glass of wine and some delicious snacks while watching the final rounds of March Madness. When it comes to pairing any food with wine it is import to look for complementary or contrasting flavors.  The three best sports watching snacks include ones that are spicy, salty and sugary.
Those who like something hot may go for spiced nuts, like smoky spicy almonds. They are a great snack to enjoy with a cool glass of Gewurztraminer or Sauvignon Blanc. The spicy nuts cancel some of wine's fruitiness; so it is best to pair spice with a wine that is lightly sweet, very fruity, low tannin and crisp. Not only will the wine taste more refreshing, but it will intensify the flavors in the almonds.
Of course, one of the best salty snacks are potato chips. My great-grandmother always said the perfect combo is potato chips and a large glass of champagne.  She was right because the salt in the potato chips and the acidity in wine both cancel each other out. Champagne or Sparkling wine is best with salty foods because of its slight sweetness, low tannin and higher acidity.
If you have more of a sweet tooth, like me, than the sugary snack foods are preferred. This one does tend to be a little trickier. Like we discussed in our previous blog, pairing sweet treats with sweet wines can be difficult. The wine has to be sweeter than the sweet snack. I prefer a dessert wine with dark chocolate peanut m&ms. The dark chocolate peanut m&ms are an easy snack food and not overly sweet.
If you are interested in a fun way to combine all three flavors, here is a tasty Chex Mix Recipe. This recipe combines spicy, salty, and sugary flavors for a delectable snack that can be enjoyed with a glass of Baldacci wine while cheering on your favorite team. Enjoy!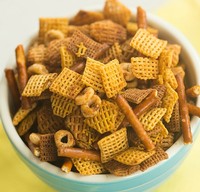 Homemade Chex Mix:
Ingredients:
6 cups Corn Chex cereal
6 cups Crispix cereal
4 cups Wheat Chex cereal
2 cups Honey Nut Cheerios cereal
2 cups pretzel sticks
2 cups peanuts
1 cup cashews
¾ cup butter, melted
4 tablespoons Worcestershire sauces
1 tablespoon seasoned salt
1 ½ teaspoons garlic powder
½ teaspoon cayenne pepper
Directions:
Preheat oven to 325 degrees F.
In a large roasting pan, stir together the cereals, pretzels and nuts.
In a small bowl, whisk together the melted butter, Worcestershire sauce, seasoned salt, garlic powder, onion powder and cayenne pepper. Drizzle evenly over the cereal mixture and, using clean hands, toss to combine, making sure that the mixture is evenly moistened.
Bake for 1 hour, stirring every 15 minutes. Once cool, store in an airtight container at room temperature for up to 2 weeks.
Enjoy During March Madness!