This month, our food feature is all about the cheese. I started thinking about how my appreciation for cheese has been shaped by travel. I remember my first trip to France as a solid swiss and cheddar gal, and suddenly, the evening meal that was finished off with an extraordinary wedge of brie…soft, melt-in-the-mouth buttery goodness placed just so on a crunchy baguette, followed with a swish of a full-bodied red Bordeaux. Wow. There was no going back!
My next French cheese adventure was at a local bar, in Macau, a small town outside of Ludon. The wonders of the croque monsieur were soon apparent. I never thought that a "grilled cheese" sandwich could ever be so inspiring! I recall cutting the dripping butter/melting cheese with a good local beer and some steamed clams. Not bad…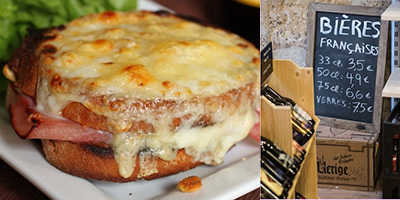 I returned home to work as a stock clerk at the Oakville Grocery Company. This gave me a chance to try and replicate some of these wonderful bread and cheese combinations. The baguettes were from Sciambra bakery and the brie was imported! I felt so enlightened. My family thought I was a snob, but soon, my mom was making her own luxury combination: a toasted walnut half with a small spread of blue cheese chased by a glass of port. Ok, the competition was on…
I remember certain cheeses of the 1980s that were part of our family's hospitality: Cambozola Blue, Maytag Blue, San Joaquin Gold, or Sonoma Dry Jack. Each of these cheeses was arranged just so on a cutting board with sliced baguette and prosciutto (another addiction that sent salami firmly to the sidelines). We played around with the various combinations of Merlot and Cabernet Sauvignon paired with hard, soft, stinky, mild, local or imported cheese.
As more travel ensued, so did my regional understanding of cheese. From Portugal to Turkey, I tried them all! The simple daily meal of bread, cheese, and wine made me realize that most of the pleasure came from the place…a grassy riverbank, the steps of a cathedral, and a park bench. To be nourished while taking in my surroundings was a revelation. I love a great restaurant meal, don't misunderstand, but the simplicity of a hunk of bread and a chunk of cheese is bliss.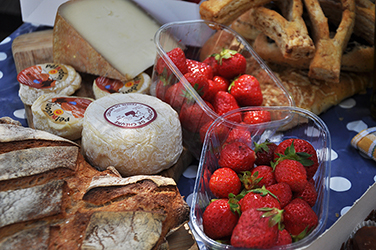 So, as football season begins, consider upping your game with a wine and cheese pairing. Or, stop in at Sunshine Foods and let their cheese monger pick out a few select wedges for a park picnic. Pick up a baguette at Bouchon Bakery or a country batard at the Model Bakery, and enjoy!